Roasted Chettinad Tempayy (Tempeh) Samosa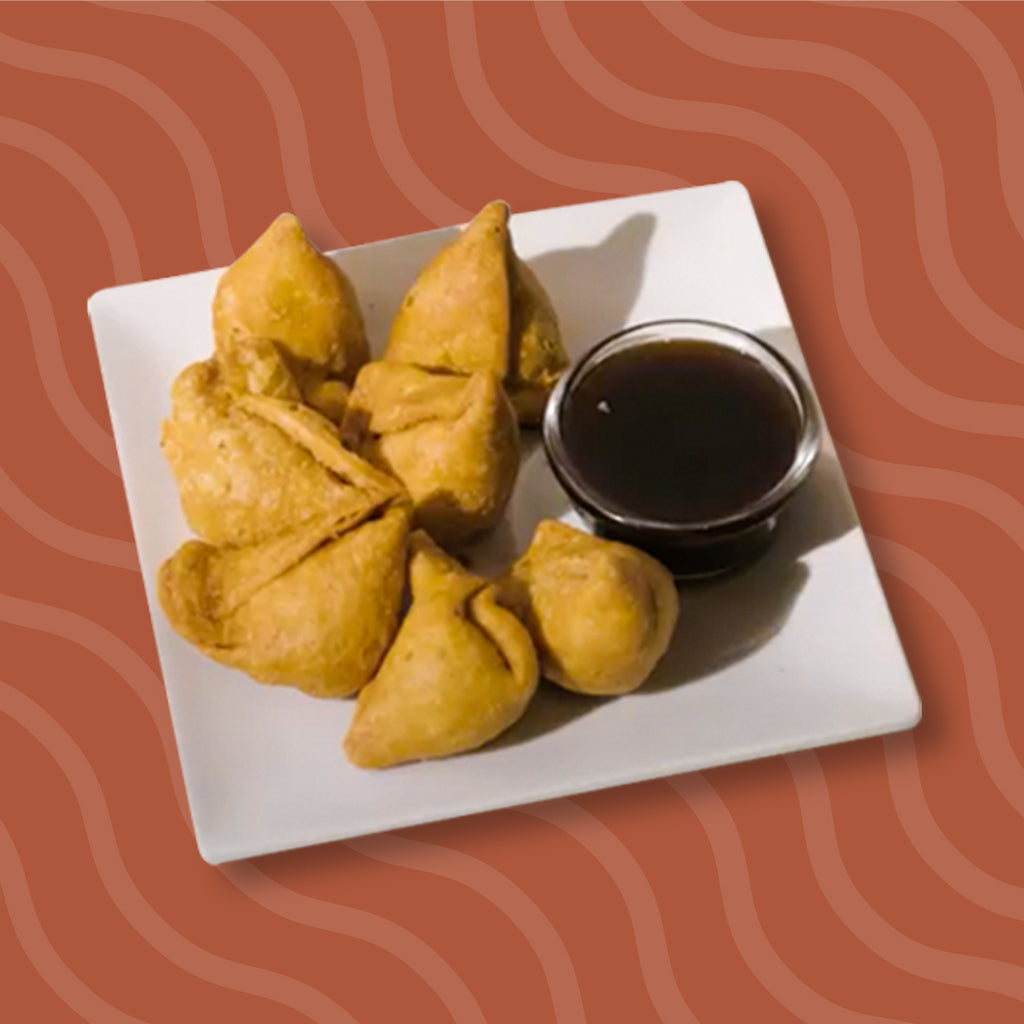 Made with our own
Roasted Chettinad Tempeh Cubes
Buy now
Prep Time

10 mins

Cooking Time

10 mins

Serves

2
---
For Dough
1 cup

Refined flour

1 tsp

Carom seeds

1 tbsp

Ghee

to-taste

Salt

Cold

water
100g

Chettinad Tempayy Cubes (grated)

5 tbsp

Oil

½ tsp

Mustard seeds

1 Nos

chopped onion

2 Nos

Green chillies

10g

Green peas

1 tsp

Corriander (crushed)

2 tsp

Chilli powder

1 tsp

Turmeric powder

10g

Peanuts

10 Nos

Dried grapes

¼ tsp

Black pepper powder

Salt- to

taste

1 tsp

Dried mango powder

for-frying

Oil
For dough:
In a bowl, add refined flour, carom seeds and ghee. Rub the flour between your palms to incorporate the ghee well for 2-3 mins. After this step, the flour should resemble breadcrumbs.

Add salt and mix well. Add cold water and knead enough to combine and form a tight dough.
Heat oil in a pan

Add mustard seeds, crushed coriander, chilli, onion, grapes, peanuts and peas. Allow it to cook for 2-3 mins.

Add carom seeds and grated Tempayy. Sauté for a few mins.

Add powdered spices until you get the desired taste and colour.

Add salt and mix well.

Add dried mango powder and mix. Allow the mixture to cool.
Divide the prepared dough into equal parts. Roll it to a oval shaped even layer.

Cut it in the centre to make 2 parts. Apply water with your finger over the straight edge. Join the edges to form a cone shape. Stick the edges well.

Fill the cone with the prepared Tempayy filling. Apply water on the edge and stick the edges to seal well.

Deep fry the prepared samosas in medium hot oil. Fry until golden brown and crispy. (Or, preheat the oven at 180/355C for 3 minutes. On a baking tray lined with parchment paper or sprayed with oil place oil brushed samosa in a single layer. Bake these samosa at 180C for 8-9 minutes. Turn them over and bake for another 5-6 minutes till samosa covering is golden brown. ) Serve hot with a choice of chutney.
TEMPEH BIRYANI RECIPE| TRY EASY BIRYANI RECIPE FROM HELLO TEMPAYY
Tempeh is one of the best natural vegetarian sources of protein with a high protein and fibre content thanks to the natural fermentation process. For even the most inexperienced cook, the preparation of Tempeh is simple: simply unbox and use as cubes or mince the Tempeh, season/ marinate it liberally with your choice of spices, and sautee the Tempeh with a bit of oil for five to seven minutes.
...


Tempeh is plant-based, dairy-free, and gluten-free, with 19 grams of protein per 100 grams and only 1.6 grams of net carbs.

It has a mild nutty flavour and a slightly spongy, solid texture. Because the tempeh cubes absorb flavours well , we recommend seasoning even the flavoured cubes if you want the flavour to pop.

Thanks to the porous nature of tempeh, it absorbs the flavours of whatever it's mixed with and helps make a

tempeh biryani that is quick to cook yet packs a savoury punch

.

If you want the original taste of biryani but want to make it at home, we are here with a quick

vegetarian biryani recipe

for you to savour at lunch or at dinner!

Get yourself ready for a

quick tempeh lunch

today and smash your nutrition goals!