Tempayy (Tempeh) Chettinad Dry Masala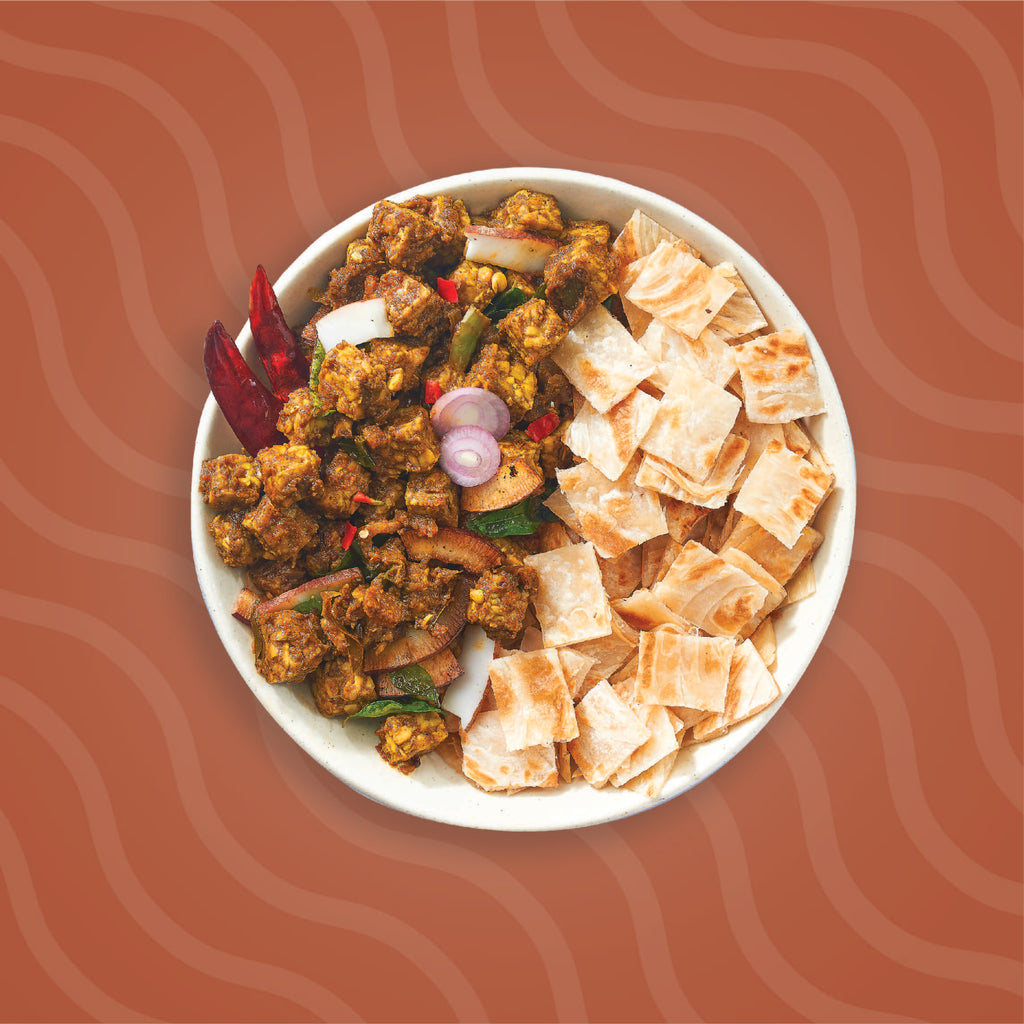 Made with our own
Roasted Chettinad Tempeh Cubes
Buy now
Prep Time

8 mins

Cooking Time

20 mins

Serves

4
---
200 g

Roasted Chettinad Tempayy Cubes
4 Nos

Dried red chilli

15 g

Fresh coconut slices

50 g

Chopped onions

2 sprigs

Curry leaves

2 Tbsp

Tomato puree

3 tbsp

Coconut oil/ ghee

To taste

Salt

2 Tsp

Tomato Ketchup

To taste

Salt
Pan-toss the Chettinad Tempayy (tempeh) cubes with some oil for 5 mins (till it starts to brown) and keep aside.

Heat some oil in a wok or pan. Add curry leaves and let it splutter.

Add the dry red chilli and coconut slices. Sautee till it turns golden brown.

Add chopped onions and cook on medium heat for 5-6 mins till they turn soft and translucent.

Add tomato puree and a sprinkle odf water. Cook till the raw smell is gone.

Add the pan-tossed Chettinad Tempeh cubes and cook for a few mins till the oil separates.

Add salt to taste. Serve with malabar paratha or roti.
Tempeh is a robust plant-based protein that can be used to make the most delicious
Chettinad tempeh stir fry recipe
. Before being delivered to you, an average batch of tempeh is fermented for two days. Soaked soybeans are hulled, rinsed, boiled/steamed, and allowed to cool to room temperature before being blended with vinegar and starter culture. During the fermentation process, the beans must be kept in a warm area for up to 48 hours. The weather has an impact on fermentation. The beans during fermentation bind into a firm white block, called Tempeh.
...


tempeh recipes stir fry

Because of the seed, legume, and whole grain content, tempeh cubes are high in protein, fibre, calories, and potassium. Chettinad Tempeh Fry can also be flavoured by crumbling these cubes and mixing them with spices. It's a flavorful meal that's simple to prepare. Chettinad Tempeh Stir Fry may be made at home in about 25 minutes.

Hello Tempayy's Tempeh is completely vegan, vegetarian, gluten-free, and dairy-free, making it ideal for any vegetarian, vegan or flexitarian.y.

Because of its mild nutty flavour and firm, earthy texture, it can be utilised in a range of cuisines. Tempeh is high in fibre, fortified with vitamin B12 and iron, has a low glycemic index, is lactose, gluten, and cholesterol-free, and has 19 g of gut-friendly protein per 100 g.

Tempeh recipes vegan stir fry

are simple because of its neutral flavour, which allows it to absorb the flavours of the condiments entirely.

Order your tempeh cubes today and share your favourite tempeh recipes stir fry with us!

tempeh recipes stir fry

with us! .