A little sweet and spice, there's nothing like a good Sriracha kick. Get your protein & spice fix all at once with our Simply Sriracha Tempayy (Tempeh). Whip up stir fries & lettuce wraps with ease or just munch on them with complete abandon.
Soybeans, water, natural vinegar, sugar, red chili, iodised salt, rice flour, Rhizopus (culture), iron, vitamin B12, hydrolysed soya protein and spices and condiments.

Allergen: Soy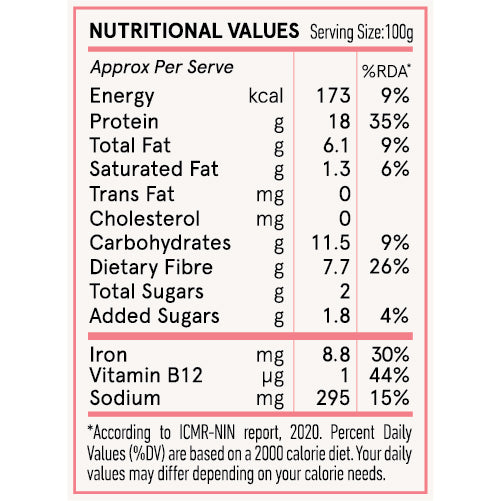 Tempayy (Tempeh) has to be kept refrigerated at all times. Hello Tempayy has a shelf life of 90 days when stored in the fridge. Please ensure the Tempayy is thawed completely before seasoning and cooking.
1. How is Tempayy (Tempeh) made?

Tempayy (often spelt Tempeh) is made using high-quality non-GMO soybeans, which are cooked and then fermented with utmost care using a 100% natural culture. Post fermentation, the soybeans form a seamless white block (kinda like a cake) which is cut into cubes and packed to ensure maximum freshness.

2. How to cook Tempayy (Tempeh)?

Cooking Tempayy is easy-breezy. It can be used as cubes or minced. Just season/ marinate it liberally, sautee in a bit of oil for 5-7 mins and you are good to go. Toss it in a sauce, mince it in a masala, bread it and fry or add to any recipe of your choice. The perfect canvas to showcase your cooking skills.